Land & Water Class Schedule

For VIP-level Members 
PLEASE VISIT OUR FACEBOOK PAGE FOR CURRENT CLASSES
​​Aqua Classes in BLUE. ​Studio in PURPLE.
NOTE:  All members taking classes must be VIP-level members.  If you are not, please upgrade at Front Desk.
​​​​​​​DAY
TIME
CLASS (INSTRUCTOR)
Monday
8:00 AM
Studio YOGA (Tonika)
8:30 AM
Aqua HITT/Yoga (Annette)

(A great workout!)

9:00 AM
Studio Barre (Tonika)
9:30 AM
1/2 Aqua Pilates/ 1/2 Aqua Barre (Annette)
5:30 PM
Aqua Tabata (Kayla)
Tuesday
9:00 AM
Aqua Melodies (Tamie)
10:00 AM
Aqua Fit (Tonika)
11:00 AM
Silver Sneakers Chair Class - 30 mins (Dana)
Wednesday
8:00 AM
Studio Pilates I (Tonika)
9:00 AM
Aqua Blast (Tonika)
10:00AM
Aqua Pole (Tonika)
5:30 PM
Anchor Down (Kayla)
Thursday
9:00 AM
Aqua MixFitness (Tamie.)
9:30 AM
Dance Fusion/Belly Dancing (Tonika)

(TRY THIS NEW CLASS!)

10:00AM
Aqua Sculpt & Tone (Tamie)
11:00 AM
Silver Sneakers 30-minute Chair Class (Dana) (NEW! )
5:30 PM
Aqua Combination (Kayla)

(A great workout!)

Friday
8:30 AM
Aqua Boot Camp (Annette)
9:30 AM
Aqua Fit (Annette)
Saturday
8:45 AM
Aqua HITT/Yoga (Annette/Kayla/Tamie)

​(A great workout!)

10:15 AM
Studio Yoga (Charmaine)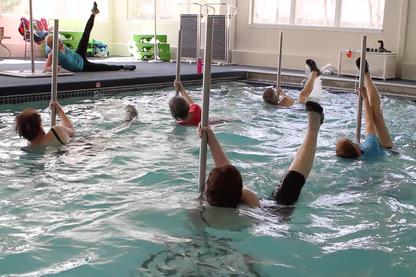 EXCLUSIVE TO FITNESS 54!!
Acquapole® - the innovative aquatic piece of equipment and its original training program in water!
Acquapole® is the innovative aquatic piece of equipment, designed, patented and manufactured in Italy, in 2010, by Monica Spagnuolo, an Aquafitness instructor.  Fitness 54 is the exclusive licensee in South Atlanta, and our instructors have been certified by Acquapole®
Using water for resistance and support Acquapole® fitness helps to shape the abdomen, shoulders and hips, and to improve the cardiovascular circulation.
Acquapole® is not simply a pole in the water, but a true multi-functional workstation, which allows you to carry out more than 150 aquafitness exercises.
Thanks to Acquapole® you can finally super-train yourself in the water, having fun.   Acquapole® Fitness classes are totally engaging and never repetitive
Acquapole® is an ideal workout program (intensive, toning, rehabilitative, etc.) suitable for every kind of user (sporty and non-sporty, young and old, men and women, over-sized and thin)!
Level 1 uses just the pole
Level 2 incorporates a punch bag for kick-boxing